1730 Park Street, Suite 117
,
Naperville, IL 60563
The Benefits of Force Majeure in a Construction Contract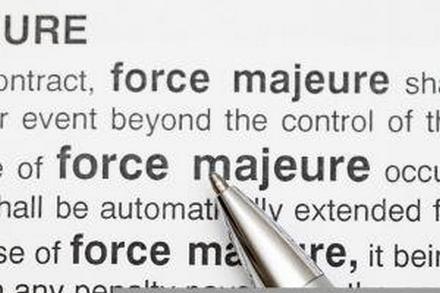 A construction project often involves many moving pieces, including supplies, equipment, various contractors and their employees, negotiations with the city over zoning regulations, and more. Even under normal circumstances, it can be challenging to ensure that you are upholding all of the details of your construction contract, and it may be impossible during an unprecedented event like the COVID-19 pandemic. At a time like this, it is important to review your contracts to determine whether they include a force majeure clause that can provide relief.
How the COVID-19 Pandemic Affects Construction Projects
COVID-19 and its effects may make it difficult or impossible to fulfill your obligations as a construction contractor for several possible reasons, including:
Supply shortages: The pandemic may have interrupted the production or distribution of building and construction materials that are necessary to complete a project.
Project delays: Stay-at-home or shelter-in-place orders in the first few months of the pandemic may have delayed the start of a construction project.
Self-isolation of employees: Employees isolating or quarantining for their own safety or because they have tested positive for the virus may lead to labor shortages that slow the progress of a project.
Social distancing precautions: In order to maintain safe social distancing at worksites,  you may need to make adjustments to complete your project with smaller work crews.
Cash flow issues: The economic impact of COVID-19 may have led to the cancellation of some projects or difficulty in acquiring new ones. Resulting losses in income may make it harder to complete current projects.
Pursuing Relief Through a Force Majeure Clause
If you are struggling with any of these issues, you may be able to seek relief from your contractual obligations if your contract includes a force majeure clause, which can account for the possibility of unpredictable and uncontrollable acts of nature or people. The COVID-19 pandemic may qualify as one of these acts, but it can depend on the language in your contract. For example, you may be more likely to obtain relief if the contract specifically lists pandemics in the force majeure clause. You will also likely need to demonstrate that your inability to fulfill the contract is specifically due to the pandemic. Depending on the language in your contract, you may be able to receive an extension on the project, additional compensation for increased expenses, or total release from your contractual obligations.
Contact a Naperville Business Contract Attorney
At Lindell & Tessitore, P.C., we understand the challenges that businesses in many industries are facing as a result of the COVID-19 pandemic. We can help you pursue relief from your contractual obligations through an existing force majeure clause or draft new contracts that account for unexpected events. Contact a DuPage County business law attorney today at 630-778-3818. Sources: https://www.natlawreview.com/article/covid-19-s-impact-construction-there-remedy-time-extension-force-majeure-or-more https://www.uslaw.org/files/Compendiums2020/COVID19_ForceMajeure_2020/Illinois_USLAW_Compendium_COVID19_Force_Majeure_2020.pdf