1730 Park Street, Suite 117
,
Naperville, IL 60563
What Forms of Due Diligence Need to Be Performed in the Purchase of Commercial Real Estate?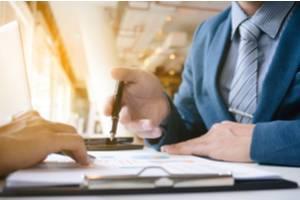 Investments in commercial real estate can be very lucrative but can also be very costly if mistakes are made. There are a variety of concerns that will need to be addressed when purchasing commercial property. This article is brief summary of some of the main due diligence items but is not exhaustive. If a buyer will be assuming ownership of property that tenants currently occupy, they will need to be prepared to assume existing leases and understand any other contracts that are in place that will survive the Closing such as service contracts, Declarations of Restrictions and Easements, and other agreements. To ensure that the Due Diligence Process is done correctly and critical items are not missed by the Purchaser, it is crucial to work with an attorney who can help perform due diligence or guide the client in what matters of due diligence are most important during the due diligence period under the subject Purchase Contract in a transaction.
Major Issues to Address When Performing Due Diligence
An investor can protect their financial interests by gathering all information needed to ensure that they fully understand the risks and benefits of a commercial real estate transaction. In many cases, a person will have 60 days or less to perform due diligence, so it is essential to act quickly to uncover any issues that may affect a transaction or impact an owner's ability to receive the proper return on their investment.
While the forms of due diligence that may be performed will vary depending on the type of property and transaction, an investor will likely need to address issues such as:
The physical condition of the property

- A physical assessment of the property can determine whether there are any repairs that will need to be made or any other issues that will need to be addressed, such as renovations to comply with building codes. This assessment can also help an investor estimate the costs to develop the property, such as demolition of existing structures and construction of new buildings, parking lots, or other improvements.

Financial concerns

- Audits of existing leases, income and expense reports for the property, and contracts will ensure that an investor understands the income that is currently being received, the costs of various services, and the potential opportunities for cutting costs or generating additional income.

Legal issues affecting the property's title

- A title search can uncover any encumbrances that may have a negative impact on the value or use of the Property such as liens, deed restrictions, easement agreements, and covenants and restrictions. This is frequently a concern when a property is located within a larger development that is subject to a Declaration of Easements, Covenants & Restrictions ("CCR's). CCRs typically contain a list of prohibited uses of all properties located within the development and will contain restrictions on how an owner can develop their property located within the development. The attorneys at Lindell & Tessitore P.C. will advise clients on any issues in the CCRs that would affect a client's use and development of the property. We also typically request an estoppel certificate from the Developer in the larger development indicating the property our client is purchasing complies with the CCRs and that the current owner is not in default of the CCRs.
Another issue that comes up sometimes is when the Property is subject to any existing annexation or development agreement with a County or Village. Sometimes, there are uncompleted obligations that would be binding on the new buyer upon taking title to the Property as well as impact fees and recapture fees owed. Therefore, it is very important that such matters be thoroughly reviewed during the Due Diligence Period.
ALTA Survey.

An ALTA Survey of the property should also be obtained from a surveyor to provide a complete understanding of the boundaries, neighboring properties, building setbacks, encroachments, wetlands, easements, location of utility lines, and development opportunities. For example, there could be a utility easement in an area of the property where the client wants to build a structure. In that case, the easement may have to be relocated which is a very expensive and lengthy process many times. The ALTA Survey should plot all title documents affecting the Property and list all of the zoning requirements for the particular zoning classification pertaining to the Property under the respective Village or County.

Construction permits, zoning laws, and environmental regulations

- To ensure that investors have a full understanding of any issues that may arise during a development project, it is important to review any laws and regulations that may apply to a property, including those that limit how a property may be used.

Zoning & Building Letters

. We typically meet with the zoning director/staff of the respective Village or County to confirm all zoning, subdivision and building regulations affecting the Property and assist with obtaining any zoning entitlements for our clients needed such as variances, special use permits, site plan review, final plat review and other entitlements needed for the development of a project. We will also try to obtain a zoning and building compliance letter from the Village or County zoning staff for existing projects and new development projects.
Contact Our Oak Brook Commercial Real Estate Due Diligence Attorney
Since there are so many complex factors that can play a role in a commercial real estate transaction, it is crucial to work with an attorney who can identify and address any legal issues that may arise. At Lindell & Tessitore P.C., we have represented clients in transactions involving purchases and sales of a wide variety of commercial properties. We can help perform due diligence and ensure that your concerns will be addressed efficiently and effectively. Contact our DuPage County commercial real estate transaction lawyers at 630-778-3818 to get the legal help you need.
Sources:
https://www.pmainc.com/news/post/defining-due-diligence-in-commercial-real-estate
https://origininvestments.com/2018/11/20/5-steps-to-take-when-conducting-due-diligence-in-commercial-real-estate/
https://millmanland.com/knowledge/commercial-due-diligence/